Upgrade Your Kitchen with Premium Kitchen Plywood from Trojan Plywood
The kitchen is the heart of your house. It is more than just a place to prepare food. And every little detail counts when it comes to creating and designing the ideal kitchen. The kitchen plywood from Trojan Plywood offers an extensive range of options for repurposing your cooking area into a masterpiece of both aesthetics and culinary magic.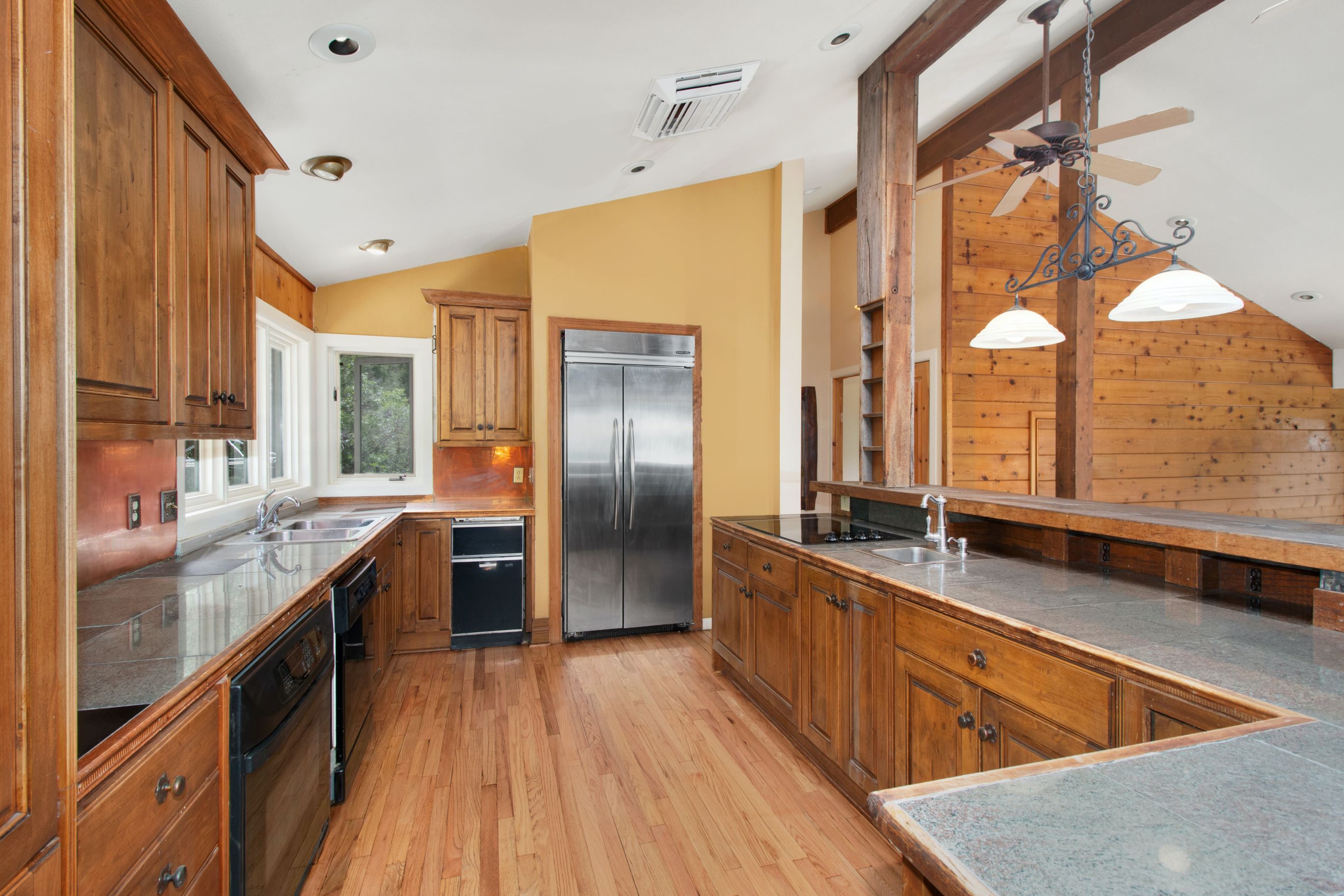 Different Types of Kitchen Plywood
1. Softwood Plywood:
This kind of plywood, which is derived from coniferous trees, is suitable for less demanding applications. It's frequently used for cabinet and drawer interiors.
2. Hardwood plywood:
Derived from deciduous trees, it is known for its extraordinary strength and resistance to damage. It is ideal for kitchen cabinets that must hold up to a lot of wear and tear.
3. Decorative Veneer Plywood:
If appearances are important to you, decorative veneer plywood offers a variety of finishes to go with the design of your kitchen. It blends a visually appealing surface with the strength of plywood.
4. Moisture-Resistant Plywood:
Essential for kitchens where humidity and spills are frequent, moisture-resistant plywood is made to stop warping and other damage brought on by moisture exposure. To protect the durability of your cabinets in a kitchen setting, make this sensible decision.
5. Marine plywood:
It is the recommended choice if you want the best defense against moisture. It is frequently used for outdoor applications and is made to tolerate moist conditions and water. Marine plywood can be used in kitchens for regions that are likely to be exposed to water, like under sinks.
6. Exterior Plywood:
Although it is not made for kitchens, exterior plywood can be utilized in places that occasionally get wet. It strikes a decent mix between durability and affordability.
7. Pre-laminated Plywood:
This kind of plywood has a pre-laminated surface, therefore additional finishing is not necessary. It's an ideal choice for people looking for a simple and effective kitchen cabinet solution.
With the help of our comprehensive comparison table, which highlights the unique qualities and advantages of each type of kitchen plywood Trojan Plywood offers, you can make an informed decision for your kitchen. Whether you're looking for moisture resistance, aesthetic appeal, or longevity, pick the one that ideally suits your kitchen needs.
| Plywood Type | Key Features and Benefits |
| --- | --- |
| Softwood Plywood | – Suitable for cabinet interiors |
| | – Resistant to wear and tear |
| | – Ideal for less demanding applications |
| Hardwood Plywood | – Extraordinary strength and durability |
| | – Withstands heavy wear and tear |
| | – Crafted from deciduous trees |
| Decorative Veneer Plywood | – Wide range of finishes to match your design |
| | – Blends aesthetics with plywood's strength |
| | – Elevates visual appeal of your kitchen |
| Moisture-Resistant Plywood | – Prevents warping and damage due to moisture |
| | – Essential for humid kitchen environments |
| | – Protects cabinets from spills and moisture |
| Marine Plywood | – Superior moisture resistance |
| | – Ideal for water-exposed areas like under sinks |
| | – Withstands moist conditions and water exposure |
| Exterior Plywood | – Suitable for occasional wet environments |
| | – Balance between affordability and durability |
| | – Not specifically designed for kitchens |
| Pre-laminated Plywood | – No need for additional finishing |
| | – Simplifies cabinet solutions |
| | – Perfect for hassle-free kitchen cabinet design |
Benefits of Using Plywood in Your Kitchen
Strength and Durability: Plywood is crafted from layers of wood that are glued together to create a strong material that can handle the constant use of a busy kitchen.


Cost-effective: Plywood is more cost-effective than solid wood without compromising quality, making it a great option for homes on budgets that are limited.


Resistance to Moisture: To avoid deformation or damage brought on by moisture and spills, choose plywood that is resistant to moisture in your kitchen.


Easy Customization: Plywood is easily adapted to match any kitchen layout, whether you're designing cabinets, shelving, or countertops.

Advantages of Trojan Plywood's Kitchen Plywood
Trojan Plywood is a name you can rely on when looking for high-quality kitchen plywood. Here are some reasons why Trojan Plywood's kitchen plywood stands out due to its dedication to excellence and track record for producing top-notch products:

Premium Materials: Trojan Plywood creates its kitchen plywood using only the finest hardwood and softwoods. This guarantees ideal strength and durability, extending the lifespan of your furniture and cabinets.
Innovative Engineering: Trojan Plywood uses state-of-the-art technology and expert craftsmanship in its manufacturing process. To manufacture plywood that is solid, trustworthy, and warp-resistant, each layer of wood is carefully assembled and glued.
Variety of Finishes: Trojan Plywood provides a wide selection of finishes for its decorative veneer plywood since it recognizes that every kitchen has its own individual taste. You may choose the ideal finish to match the look of your kitchen, from traditional to modern.

Environmental responsibility: Trojan Plywood is concerned about the impact that it has on the environment. They are a responsible option for homeowners who care about the environment because their kitchen plywood is frequently created using ecologically friendly methods and resources and comes from sustainable forests.
Qualifications and professional experience
With years of experience, Trojan Plywood is recognized as a trusted leader in the plywood sector. Our team of professionals, which consists of knowledgeable designers, engineers, and talented craftsmen, brings a wealth of knowledge to every project. Our certifications from well-known trade organizations prove to our dedication to excellence and innovation.
Awards and Attributions
Throughout the woodworking and construction industries, we have received numerous awards and recommendations in recognition of our commitment to quality. These honors are a reflection of our ongoing efforts to provide top-notch goods that raise the bar for excellence.
Evidence-based Trustworthiness
When we make the claim that we use "premium materials," we provide evidence. Trojan Plywood only uses wood from responsibly managed forests, reducing our impact on the environment while supplying your kitchen with the best possible materials.
We offer data on our plywood's performance and durability in actual environments as part of our commitment to transparency. Our certificates may be easily verified through authorized means, and our products are compliant with international quality standards.

Tips for Maintenance and Care
Here are some maintenance suggestions to preserve the durability and beauty of your kitchen furniture and cabinets:
1. Regular Cleaning: To remove dust and spills, wipe off your wooden surfaces with a gentle, wet cloth. Do not use harsh cleansers because they could harm the smooth finish of the plywood.
2. Avoid Direct Heat and Sunlight: The plywood may warp or fade if exposed to direct heat or sunshine for an extended period of time. Use covers or curtains to shield your cabinets from these factors.
3. Use coasters and mats: Always place coaster under glasses and mats beneath hot plates or pots to prevent moisture damage.
4. Check for Loose Hardware: To avoid further damage, regularly check the hardware on your cabinets and tighten any loose screws or hinges.
End Note:
With the premium selection from Trojan Plywood, transform your kitchen. Our plywood complies with your particular needs, offering alternatives that are pre-laminated or moisture-resistant. Each item is a representation of power, beauty, and a dedication to sustainability. The appropriate materials are essential in the process of designing your ideal kitchen, and Trojan Plywood's kitchen plywood offers a balance of dependability, beauty, and environmental responsibility. By choosing Trojan Plywood, you are investing in more than just plywood—you are investing in the soul of your house. Trojan Plywood offers a variety of alternatives, from softwood to hardwood, moisture-resistant to beautiful veneer, to meet your specific demands. So, with Trojan Plywood's kitchen plywood by your side, go ahead and design a kitchen that is not only useful but also a true reflection of your style.